EIHA's 12th annual conference gets rolling
More than 200 hemp professionals from 38 countries are on hand for the opening of the 12th annual European Industrial Hemp Association Conference that begins today in Wesseling, Germany. Chairman John Hobson of Plant Fibre Technology, UK, will open the program, with a highly anticipated world-wide market presentation on hemp and other bast fibres to follow by Michael Carus, EIHA's managing director. Sessions today are devoted to country overviews on Italy, Austria, Czech Republic and South Africa; harvesting equipment; and biocomposites. The presentations kick off at 10 a.m. at Wesseling's Rheinforum conference center.
Spell it as you wish; We spell it b-u-z-z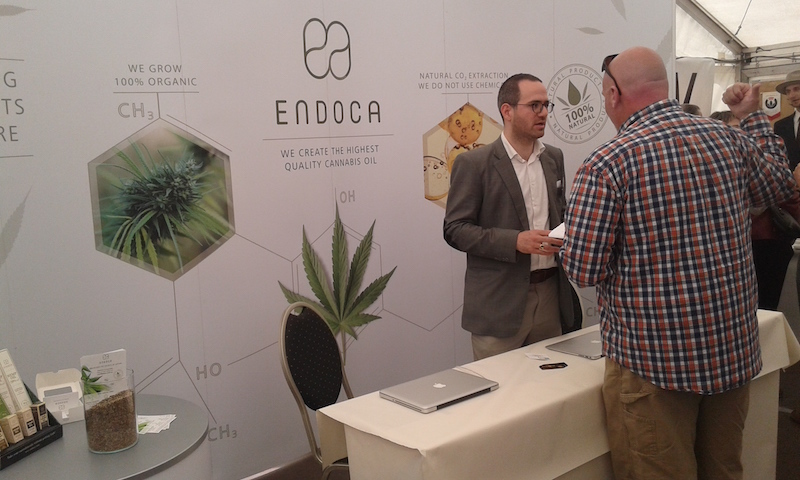 What's the buzz at this year's European Industrial Hemp Association (EIHA) conference? You can spell it with 11 letters, or with 3: It's cannabidiol, or CBD.
Our ears perked up during the conference's opening session by EIHA President John Hobson and managing director Michael Carus, both of whom referenced a rapidly growing demand for cannabidiol, for which the USA is the prime market — with European players being the main providers.
Leaving the conference during the lunch break, we sauntered into the small exhibition hall and tallied a total of 11 exhibitors, with six of them being sellers of CBD, the non-psychoactive component of cannabis that has a wide range of therapeutic benefits. At one moment, virtually all of them had conference goers bunched up at their stalls, grabbing business cards and chatting up the reps.
As veteran conference speakers will tell you, one always tries to avoid being slotted after lunch (when the dozing off commences), and at the tail end of the program. But those guys at the EIHA are clever. After lunch tomorrow, the conference concludes with a roster of three speakers on CBD and medical hemp. So we're betting this event won't wind down to a sparse crowd.
Lunch bunch
Over lasagna at lunch, we got the news flash from John Salsman of Green Remedy, a Bardstown, KY specialist in CBD-based products, that his state's current agriculture commissioner and gubernatorial candidate James Comer, a major hemp booster, had failed to earn the Republican party's nomination for governor by a mere 83 votes yesterday.
The guys around the table from Kentucky and neighbouring Tennessee agree that hemp has enough of a headwind in KY to prevent any serious reversals, but Comer's ascendency to the governorship would likely have sealed the hemp deal in Kentucky at a faster pace. Sitting in to lament the depressing news from their neighbouring state were Adam Fink, Director of the Tennessee Hemp Industries Association, and Duane Phillippi, Agriculture Manager at Oakland, TN-based Tennessee Hemp Farm.
Working the crowd
At the bar last night, we ran into Dutch hemp veteran Albert Dun of Dun Agro, one of Europe's biggest hemp growers, with fields in Holland and Denmark (Dun Agro is also a processor), who reports 1,400 hectares (3,459 acres) under hemp this growing season, up from just over 1,000 hectares last year . . .
That was after an inspiring dinner meeting with the effusive and aptly named veteran hemp builder Jorgen Hempel, whose disquisitions on just about everything are nothing short of spell binding. If you're here, you won't want to miss Jorgen's speech at 8:30 tomorrow . . .
The unretiring Robert Melamede, who'll speak tomorrow at 13:45, has retired from the University of Colorado, the professor informed us during a pleasant smoke break. His session is the most creatively titled: "Hemp, Health and Happiness, In GOD WE RUST. . . .
Over in the exhibition hall, Uwe Schnabel gave us a close look at some of the hemp-plastic interior auto parts made by HIB Trim Part Solutions, where he's in advanced technology development. Snapping one of the pieces in two, he said: "See? No sharp edges," vastly understating the potential for hemp in the car industry. . . .
Finally, if you're ever in beautiful Wesseling, near Cologne, stop in at the lounge in the Hotel am Rhein and enjoy a local wine served by barkeep Karlheinz, who gives a whole new definition to German hospitality.