Polish hemp company Kombinat Konopny said it has raised an additional 5 million Polish zlotys (€1.2m; $1.36m) following an initial crowdfunding effort late last year that raised 4.2 million Polish zlotys (€950,000; $1.10m).
Maciej Kowalski, Kombinat's CEO, said the recent round of funding came from 100 investors among 900 who participated in last year's first-round capital raising, and company employees and associates. The 2,466 million newly issued shares, which were priced at 2 zlotys (€0.45) each, raise the company's valuation to more than 50 million zlotys (€11.1m; $13.5m), said Kowalski, who himself bought 10% of the new shares.
'High dynamics'
"With demand and revenues exceeding our forecasts, we decided to speed up implementation of our strategy," Kowalski said of the recent series C offering. Kombinat Konopny reported sales for the first quarter of 2021 tripled to 400,000 zlotys (€89,000; $109,000) – a sum equal to total sales last year, "the result of high dynamics in demand for hemp goods, increased brand recognition and already completed investments," Kowalski said.
Kombinat Konopny shattered records on Polish crowdfunding platform Crowdway.pl. when it raised the 4.2 million zlotys in 38 minutes on Monday, Nov. 16, 2020. The funds were put to work this year to increase agricultural production, further develop the company's textile technology, and expand its CBD oil production line to industrial scale. The company also purchased machinery for fiber processing, and equipped a laboratory.
The most recent infusion of capital means Kombinat Konopny can essentially double down on its earlier commitment, and now has a roadmap to reach 25 million zlotys (~€5.57m/~$6.6m) in sales by 2025.
Building out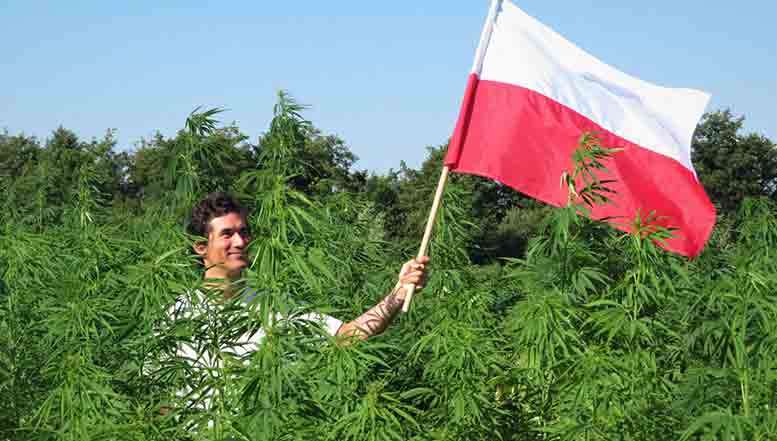 Kowalski said the new funding will let the company build and equip a second herbal production factory, add storage and other industrial buildings, and purchase farmland. Kombinat Konopny has also started the construction of a reaper based on a proprietary design, and specialized hemp dryers.
A processing line to turn out fibers for textiles is expected to be online in the next six months, Kowalski said. Operational machine prototypes and the launching of textile production are planned by the end of 2022, but Kowalski said the company may accomplish those goals sooner.
Kowalski has said he is preparing Kombinat Konopny for a 2022 debut on NewConnect, a platform owned by the Warsaw Stock Exchange (WSE) that trades shares in fast-growing startups. The alternative exchange, which offers more liberal formal obligations and information requirements, was conceived as a first step into the public markets for small companies.
Destination WSE
Before going public, Kowalski said the company may yet conduct another round of fund raising by issuing series D shares for roughly 10 million zlotys (€2.23m; $2.72m). Social investors could still get in at that point, "if legal conditions allow it," Kowalski said.
Plans then call for launching the company on the WSE in 2025. Any investors already on board via the crowdfunding offers would tag along as shareholders in the company as it turns first to NewConnect and then advances to the WSE.
Kombinat Konopny, which more than doubled employment in the first quarter of 2021, produces own-brand dietary supplements, hemp pollen, hemp flowers for tea, smokable hemp and decarboxylated hemp that can be used in food or tinctures.
The company, established in 2019, leases 40 hectares of land in the Elbląg area of northern Poland, where it cultivates and processes fiber hemp.
Kowalski was the founder of HemPoland in 2014. One of Poland's first hemp companies and the maker of European CBD brand CannabiGold, HemPoland was sold to The Green Organic Dutchman (TGOD) in 2018.