The International Hemp Building Association (IHBA) will tour hemp construction projects around the world next week during its 9th Annual Symposium, featuring initiatives in Europe, Africa, North America and Australia.
The virtual event, Tuesday and Wednesday, Sept. 15-16, will include Q&A sessions with presenters after each tour. IHBA Director Steve Allin will host the event from Ireland.
Hempcrete+solar
Ground-breaking projects among those to be highlighted include SUNIMPLANT, an eco-building in Morocco that combines hemp construction with a high-tech solar energy system for total independence from the electrical grid. The SUNIMPLANT project, designed as a single-family dwelling, was created as an entrant in the recent "Solar Decathlon" organized by the United States Department of Energy and Morocco's Centre de Recherche en Energie Solaire et Energies Nouvelles. That tour will be conducted on the second day of the symposium by Monika Brümmer of the Spanish hemp company Cannabric who also represents Adrar Nouh, a cooperative in Morocco.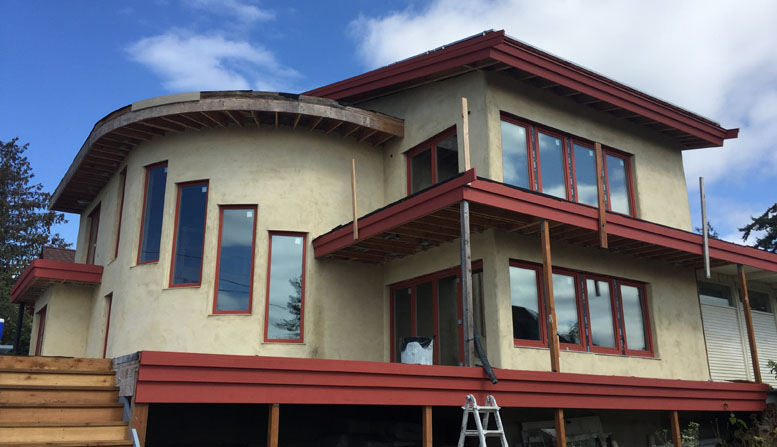 Across the Atlantic to the USA's Pacific coast, Pamela Bosch, Highland Hemp House, Bellingham, Washington, will give a tour of her project in which a 1970s era stick frame home is being retrofitted with hempcrete. Bosch stripped away the toxic layers from the walls of the house, replacing that material with a hempcrete mixture based on supplies sourced from Europe.
In another key presentation, Charlotte de Bellefroid, IsoHemp, Belgium, will talk about "Developing a Hempcrete Block System." IsoHemp recently raised nearly €7 million to build a new high-tech factory that will enable it to increase production of its range of hempcrete building blocks from 1 million to 5 million blocks per year amid increasing demand for eco-friendly construction materials among builders and companies doing renovations.
Other presenters and their topics include, on Day 1: Damien Baumer, EURL BAUMER, France, The EREASY hempcrete spraying system; Paloma Gormley and Summer Islam, Practice Architecture UK & Material Cultures organization, Designing a Hemp house with prototype Hempfibre external sheeting; Roger Dauer, Henrik Pauly & Reinhold Straub, Hanfbaukollektiv, Germany, Establishing the use of Hempcrete in Germany; Albert Dun, Dun Agro Hemp Group, Netherlands, Modular Housing Development.
On Day 2: Alex Sparrow, UK Hempcrete, The present situation in the UK with regard to Hemp building materials and systems; Kirstie Wulf, Shelter Building Design, N.S.W. Australia, Bushfires and Hemp Building in Australia; Ian Pritchett, Greencore Construction UK, Offsite construction with the Biond TM System; Paolo Ronchetti, TecnoCanapa Bioedilizia, Senini Group, Italy, The latest developments of Hemp Building products and systems in Italy; Remi Loren, Ekolution, Sweden, Establishing Hemp Construction in Sweden with Modular Systems and Retrofitting; Kehrt Reyher, HempToday & Naklo Foundation, Poland, HempToday Center hempcrete project; Building with hemp in an 18th century palace.
Symposium signup for IHBA Members is €20; non-members pay €50.