Florida agriculture officials say they are more than ready to defend against a lawsuit filed by a Fort Lauderdale-based company that sells psychoactive hemp products.
The case, brought by Just Brands USA last month, is challenging Florida's efforts to protect children from dangerous high-potency hemp-derived products such as those containing delta-8 THC, and the implementation of hemp legislation earlier this year.
The lawsuit against the Florida Department of Agriculture and Consumer Services (FDACS), which is expected to have a significant impact on the regulation of hemp products in the state, is currently pending in the U.S. District Court for the Northern District of Florida.
New law targeted
The legislation at issue in the case, Senate Bill 1676 (SB 1676), prohibits the marketing of edible hemp products that target children, includes age requirements for the purchase of hemp products intended for human consumption, outlines safe packaging and labeling rules, and holds hemp products that are ingested to the same health and safety standards as other food products.
"To this plaintiff who wants to fight our department's effort to keep children safe – bring it on," Wilton Simpson, the state's Commissioner of Agriculture, said in a statement.
"Prior to the changes made to Florida law last year, hemp extract products were out of control and sold without restrictions, including to children and with marketing and packaging specifically targeting them," Simpson said. "As a direct result of Florida's negligent oversight of this industry, children across our state were ingesting high-potency hemp extract products, which can have real and serious medical consequence."
Cracking down
Simpson said nearly 1,000 calls were made to Florida's Poison Information Centers in 2022 after children were exposed to high-potency THC products.
In its most recent efforts, FDACS said it uncovered more than 8,700 packages of illegal products at Top Private Label Co., Daytona Beach, and issued a stop-sale order against the company.
FDACS said it has uncovered more than 107,400 packages of hemp extract products targeting children since July 1. That's when the state started tracking the dangerous products through "Operation Kandy Krush," a statewide inspection sweep by the FDACS.
'Common sense'
"We worked with the Legislature to create much-needed, common-sense, and industry-supported guardrails around these products," Simpson said of SB 1676.
Just Brands USA argues that the FDACS overstepped its authority by regulating hemp products, which are not considered to be drugs or food under provisions in the 2018 Farm Bill, which legalized hemp and its downstream products. The Farm Bill failed to anticipate the development of synthetic psychoactive products made from hemp-derived CBD, which have exploded in popularity and are available in many parts of the country with no restrictions.
The products, sold as gummies, chocolates, and other candies, and packaged in a way that mimics such popular kid brands as Nerds, Sour Patch Kids, Skittles and Jolly Ranchers, are widely available at convenience stories, hemp shops and other common retail outlets.
Lingering loophole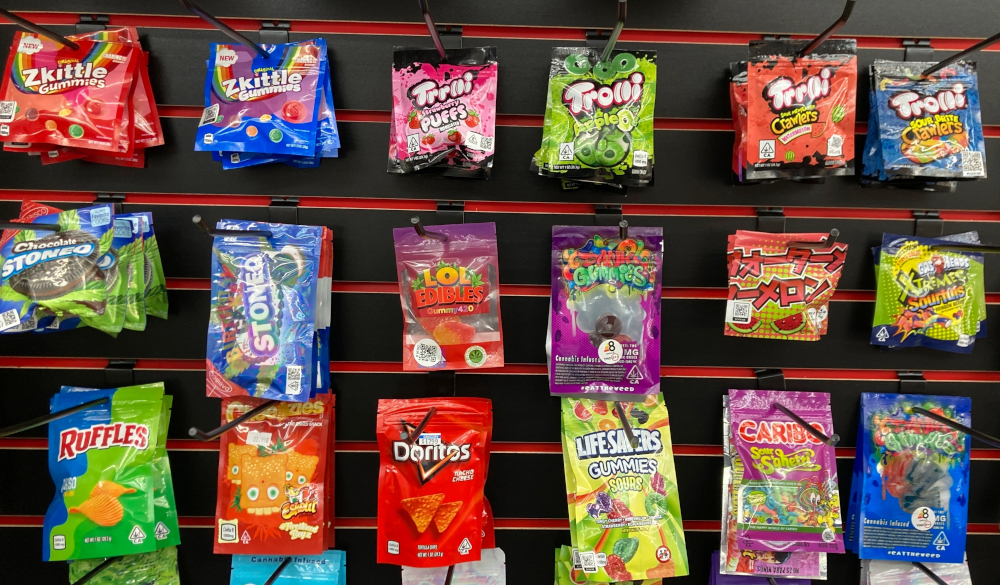 As the market for CBD extracts boomed and then crashed quickly in the wake of the 2018 Farm Bill's passage, producers still surviving in the lingering downturn found a market among makers of delta-8 THC and other psychoactive, synthetic compounds, which are made by putting CBD through a process in the lab. It's a kind of hemp product that legislators never intended.
The CBD-based synthetic, psychoactive hemp products are not regulated by the federal government and fall into a gray area. Companies such as Just Brands seized on the legal loophole to flood the market with the psychoactive products, aggressively marketing them to children.
The U.S. Drug Enforcement Administration considers the synthetic forms of THC to be federally illegal, but court rulings this year in Maryland, Arkansas and Texas put temporary protection in place for delta-8 producers.
But the conflict between federal hemp laws and state rulings may soon be reversed, perhaps by the end of the year. The U.S. Drug Enforcement Administration has said it intends to change federal drug-control laws to ban highly concentrated synthetic THC products such as delta-8. Also the 2023 Farm Bill, now being debated, is likely to draw a more narrow definition of hemp that excludes psychoactive products made from hemp.