[Second in a series]
As China sharply turns renewed attention to the potential of industrial hemp, it is quickly developing the financial resources and infrastructure that will solidify and strengthen the country's position as the world's hemp leader for decades to come.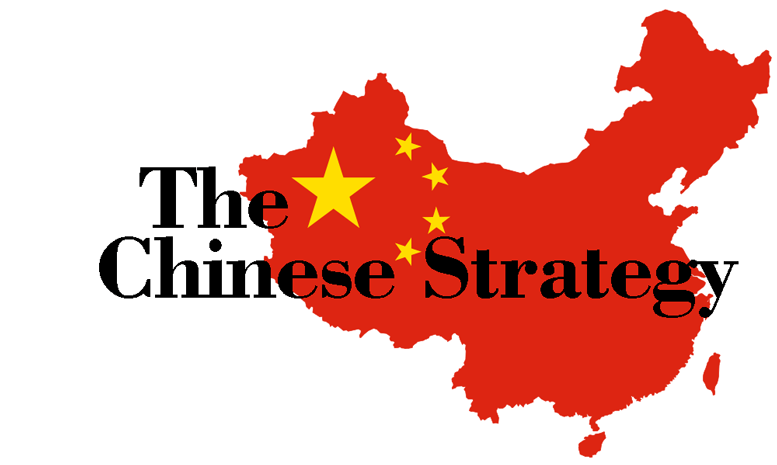 More and more state industrial giants are entering the hemp sector, helping to build the necessary institutions and physical assets to realize expansive, aggressive plans in the two primary provinces where hemp is legal to grow and process – Heilongang in the north, and Yunnan in the south.
Free trade zones that cater to hemp interests, and hemp-specific industrial parks are rapidly being developed, featuring investment and financial enticements to lure yet more players into the industry, which is being united by fast-growing professional associations.
---
With reporting by Tim Jablonski
---
Hemp stocks – concentrated among bio-technology companies – are swept up in the daily reporting on the financial markets. While the public markets are, like everywhere else, prone to speculators and hyped up press releases, real transactions – mergers, acquisitions and other partnerships continue apace, streaming capital into the industry.
Deals often involve strategic alignments among sprawling state-held conglomerates, or those conglomerates buying private hemp startups. In the most active sub-sector, bio-tech firms are driven to hemp by the global demand for CBD, which has intriguing implications for traditional Chinese medicines, a key sector the government strongly promotes as it seeks to reduce dependence on pharmaceuticals.
Hemp in the park
Perhaps the best expression of China's plans for hemp is the Kunming International Industrial Hemp Industry Park, which opened in Yunnan Province this past September in the Kunming Economic Development Zone. The park is already home to corporate offices, centers for technology R&D; facilities for scientific and technological transformation, testing and inspection; and cannabinoid extraction and synthesis. An exhibition and trading center displays more than 200 hemp products.
---
China Part I: Pushing the outer limits of what can be done with the plant
---
Officials from agencies in urban development and reform, IT and science were in attendance when that project was launched this autumn, reflecting the broad-based nature of the initiative.
'Unremitting struggle'
"Building a 100 billion yuan (~€12 billion/~$15 billion) industrial park requires unremitting struggle for long-term success." Wang Xiliang, deputy secretary of the Municipal Party Committee and Mayor of Kunming, the Yunnan provincial capital, said at a recent event held at the park.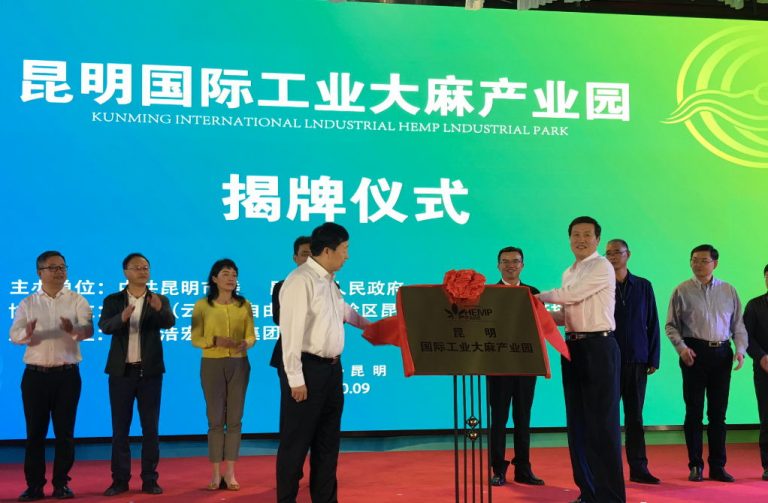 It's a struggle local officials and industrialists are taking up with relish in Yunnan, where laws and regulations, hemp farming and processing started being developed for industrial-scale hemp production as long as two decades ago, before the era of Hemp 2.0 brought opportunities to develop downstream applications in cannabinoids.
Hemp as bio-tech leader
The Kunming hemp industrial park hosts roughly 30 hemp-focused companies which have taken 37,000 square meters (~400,000 sq. feet) of office and factory buildings. It is expected that more than 60 companies will settle in the park over the next year. The goal, said Mayor Wang, is to rapidly make hemp the centerpiece of Yunnan's health and bio-technology industries, led by bio-tech firms and investors driven primarily by the potential for CBD and other cannabinoids.
While a total of more than 60 companies are reportedly pre-approved for CBD production in Yunnan and Heilongjiang combined, 12 enterprises are currently authorized for extraction and processing in Yunnan. That has set the province up as a major CBD supplier to world markets, with exports going to the United States, Europe, Canada, Japan, South Korea and other countries and regions for the production of such end products as e-cigarettes, medicines and pet food.Some CBD is also sold domestically for health & beauty products, the only CBD applications that can be legally sold to Chinese consumers.
'Whole-plant' in Heilongjiang
Heilongjiang Province, China's northern hemp capital, has taken more of a whole-plant approach, developing fiber applications and food products from hemp fields that have gradually expanded since 2016.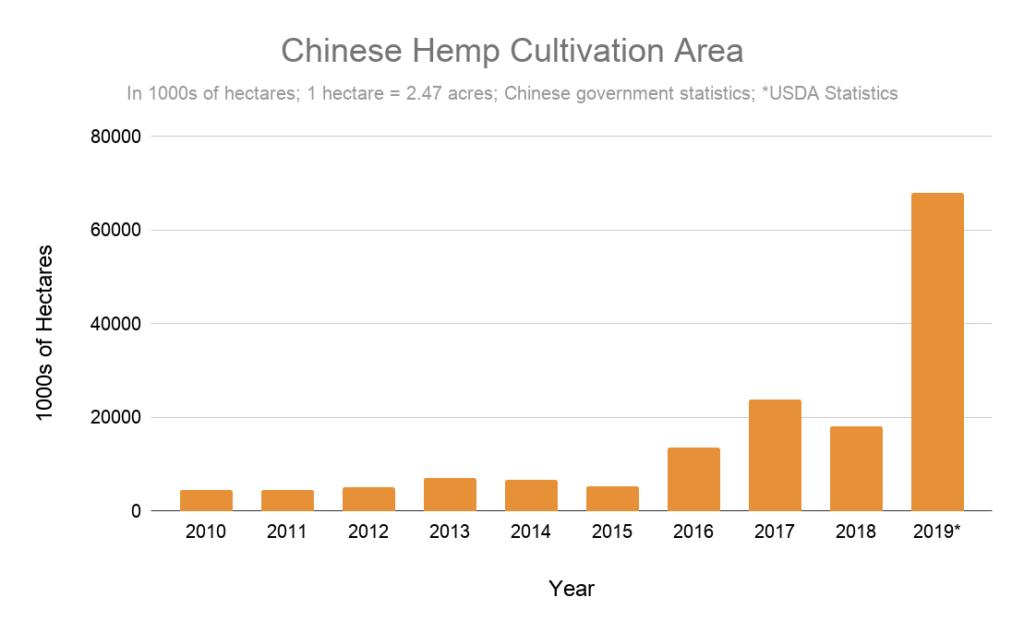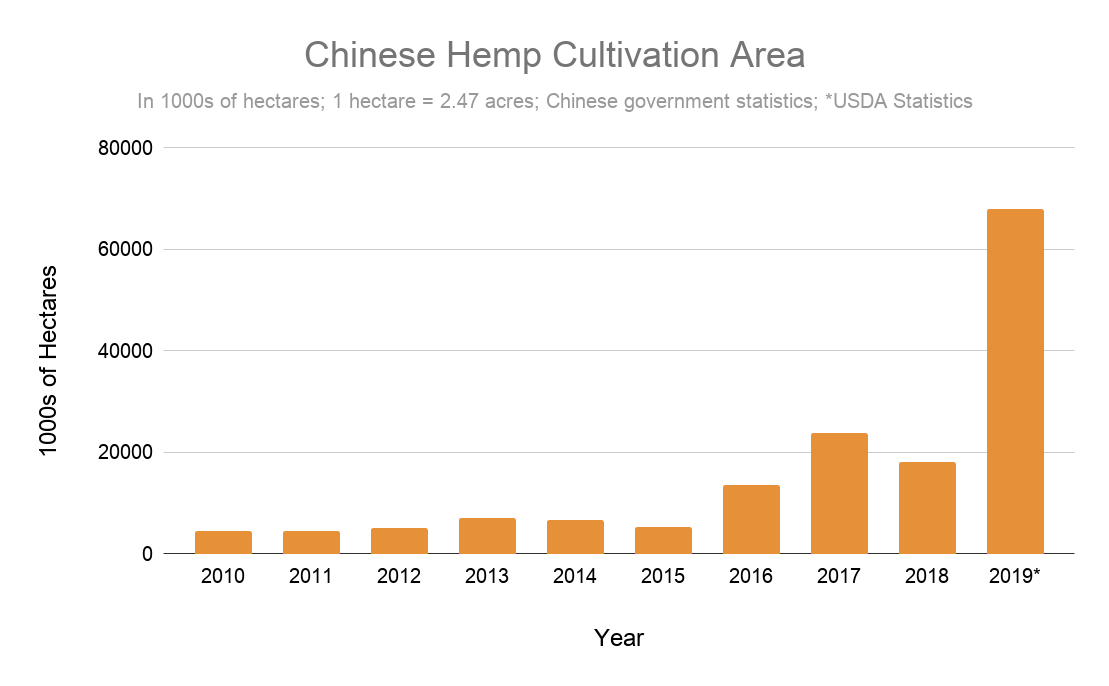 Individual figures for Yunnan and Heilongjiang are hard to come by; total 2019 hemp fields in the two provinces were estimated at roughly 68,000 hectares (~165,000 acres) by the United States Department of Agriculture (USDA) in a report issued this year. If accurate, that would mean Chinese hemp fields more than tripled between 2018 and 2019, based on Chinese government figures that put total 2018 fields at roughly 18,000 hectares (~44,000 acres). Perhaps more important are the output gains from Chinese hemp fields, which have risen from 2,200 kg to 5,800 kg per hectare (1,900–5,200 lbs/acre) since 2010.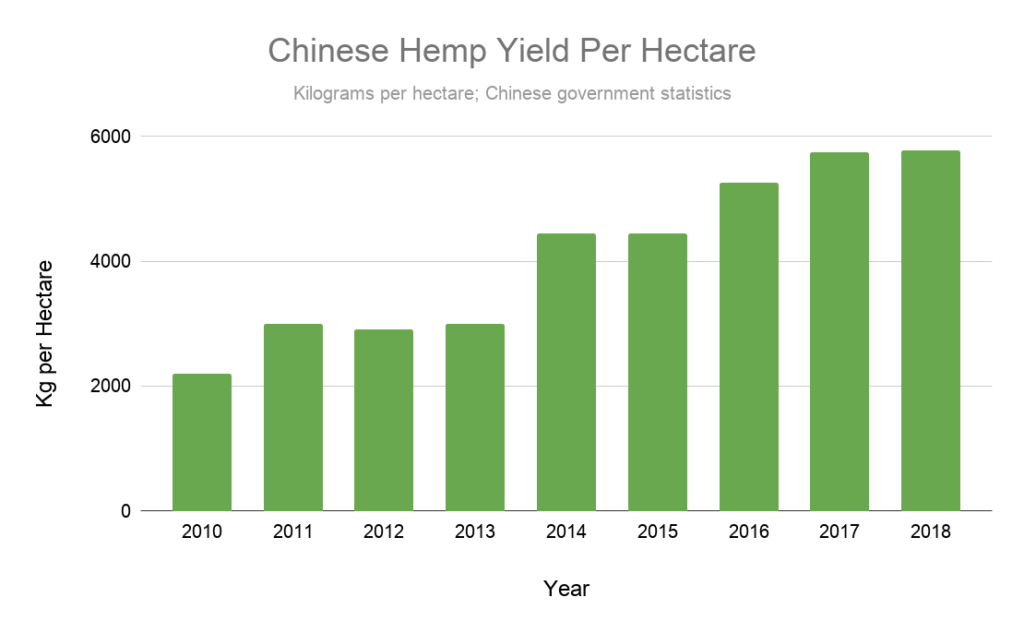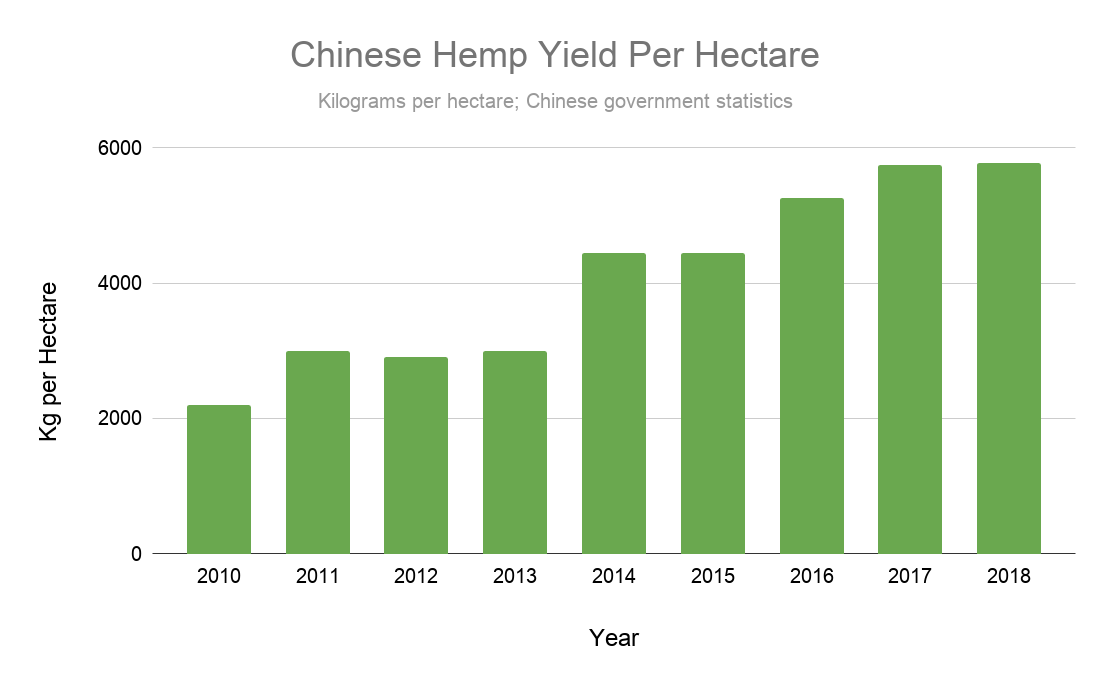 Textiles, bio-composites
Heilongjiang has embarked on massive research and development efforts to make fine hemp fibers a large-scale alternative to cotton, aiming to overcome environmental problems caused by cotton's enormous need for water, and by soil salinization and pesticides.
In addition to textile-quality fibers, rougher non-cottonized fibers are used by the automotive industry to reinforce interior automotive components such as door and pillar panels as well as dashboards and shelving, replacing fiberglass and plastic.
A comprehensive research program involving universities from Heilongjiang Province and partners from the Ukraine and Canada is developing high-yield hemp varieties, optimizing combine harvesters for stalks and seeds, and introducing bio-tech methods that allow production of hemp textile fibers in an environmentally friendly way using enzymes; the fibers can then be processed alone or together with other fibers on existing cotton gins.
CBD industrial park
Despite Heilongjiang's focus on fibers, the CBD sector is also present in the province. For example, Shineco, a Beijing based producer of Chinese medicinal herbs, is cooperating with the local government to developing vertically integrated enterprises. Shineco and the government last year agreed to both invest $22 million to establish an industrial park for CBD extraction with an estimated capacity of 30 tons of CBD extract per year.
Also in Heilongjiang, Grandshores Technology, a Chinese blockchain investor traded on the Hong Kong Stock Exchange, last year took a 40 percent stake in Hangzhou Yupu Trading, which has access to seeds and farming licenses for industrial hemp. Hangzhou is working with the Heilongjiang-based Hemp Institute of the Chinese Academy of Agricultural Sciences in a project aimed at developing at least five new hemp varieties, including for medicinal cannabis, with the entire effort backed by the government of Hangzhou municipality. That's typical of the kind of alliances Chinese companies are entering into.
The province's efforts have attracted attention and support from China's scientific and industrial communities, and are drawing financial support from some of the biggest investment funds in China, in addition to the government. Also, the province is welcoming to foreign partners and continues to seek out deals in Europe and the USA.
Industry integration
To unify the industry in China, major hemp companies have formed associations to work on such things as certification standards, marketing strategies, and research and education initiatives. A new association formed this autumn in Yunnan by 15 founding members quickly attracted 50 additional companies before it launched at a recent ceremony in the provincial capital.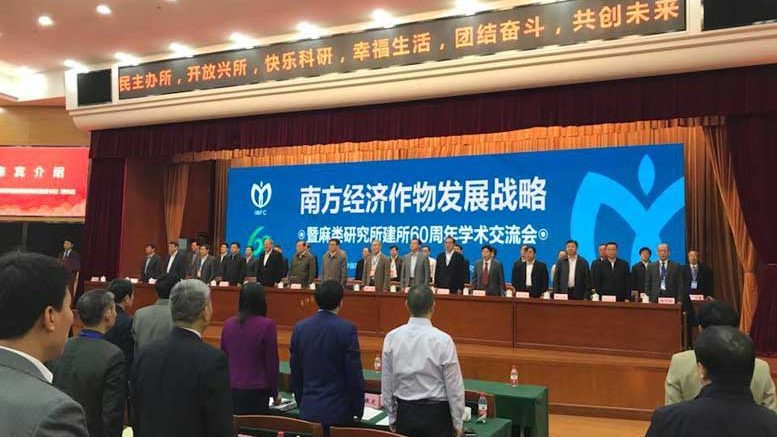 In Heilongjiang, the more long-standing China Hemp Association (CHA) holds an annual international conference that attracts up to 500 guests from all over the world. Co-organized by the Provincial Office of Industry and Information Technology, the event is supported by a wide range of stakeholders in rural development, science, pharmaceuticals and traditional Chinese medicines.
The associations attract processors, equipment manufacturers, food and beverage makers, cosmetics companies, financial institutions, marketing agencies, R&D organizations and technical services providers – all working to integrate those disciplines into the hemp sectors. Importantly, the groups also offer certification services to help Chinese companies meet GMP production for the United States and the European Union.
'Government guidance'
With active government support, the growing participation of large industrial concerns, ready financing, robust research and exponentially growing fields, China's hemp sector is already highly organized. That gives the country a clear advantage over the Hemp Wild West in the USA, the punctilious Europeans, and the Latin American and other Asian countries just now moving into hemp.
Calling for "government guidance, market-oriented operation, and enterprise participation," Kunming's Mayor Wang said: "It is necessary to establish a marketing center, form an industrial alliance, and encourage the industrial hemp industry to cooperate with medicine, cosmetics and other industries." To do that, China must "strengthen leadership, work together, clarify and decompose tasks, establish a coordinated scheduling mechanism, and add more fuel to the development," the mayor said.
"Burn the fire, and speed up."
---
Sources: Hemp in China: New Big in the New Normal?, T. Jablonski, F. Mirizzi; As the global hemp industry unfolds: China's potential in this unseen race, T. Jablonski; China – A rising CBD superpower, Arcview Group; 2019 Hemp Annual Report: Peoples Republic of China, USDA